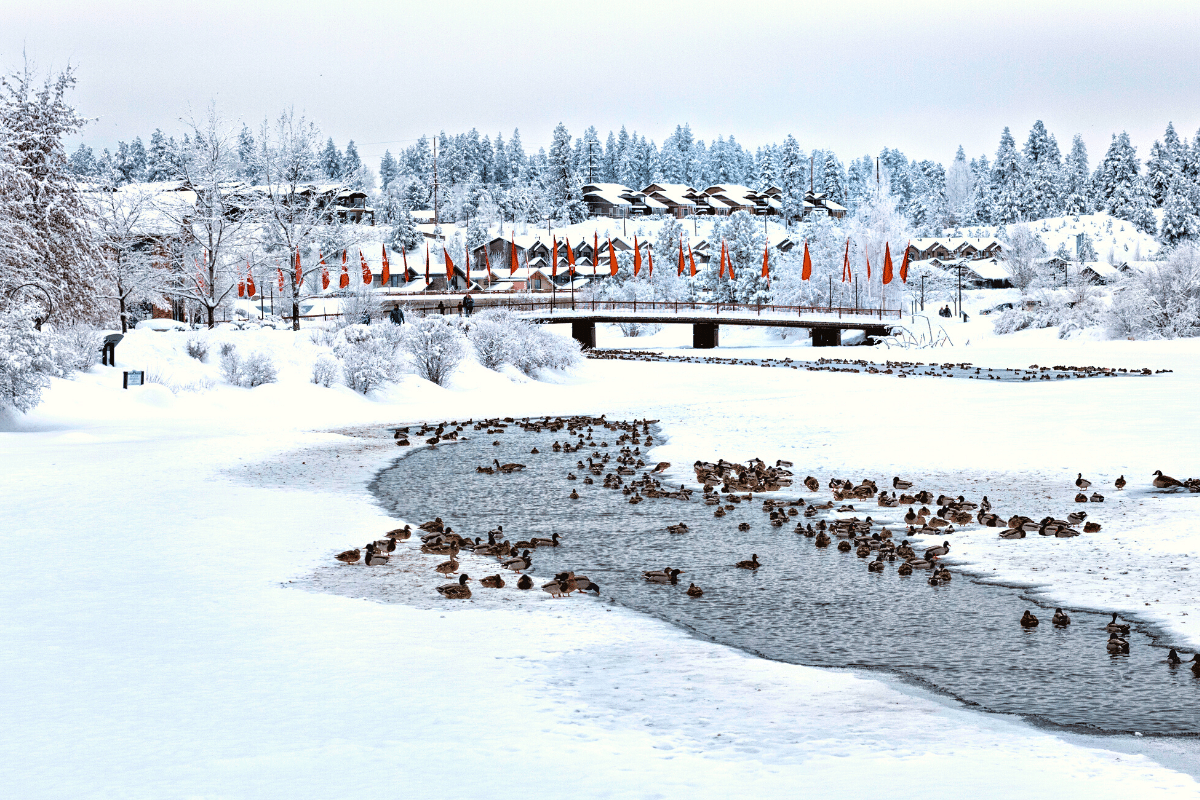 Oregon's central region has a dry, sunny climate making it ideal for a winter getaway. Let us suggest how to spend winter right in Oregon.
Bend is a popular city and, while it's lesser known, Redmond is an up-and-comer. Both of these cities are located in Oregon's high desert separated by the Deschutes River and surrounded by snow-capped mountains. The resort at Mount Bachelor is just 30 minutes away and offers plenty of skiing and snowboarding with more than 100 different trails and runs.
Hoodoo Mountain's skiing area isn't too much further from Redmond and offers 34 more ski runs. The sledding in both of these parks is pretty spectacular. This part of the state has some of the Pacific Northwest's driest snow, which is perfect for cross-country skiing. You can also find Nordic skiing at Mount Bachelor, and in the surrounding national forests: Deschutes, Willamette, and Ochoco. Most of these national forests also allow snowshoeing and snowmobiling. And you'll find plenty of ice rinks in Bend or Richmond if you prefer skating to skiing.
Redmond also offers plenty of fine dining, local microbreweries, and chic cafes – all of which are perfect whether you've got the whole family or it's just you and your special someone looking for some outdoor adventures.
On the other side of the state, about 1.5 hours from Portland, you'll discover Mount Hood National Forest. Mount Hood, a now-dormant volcano, ascends to over 11,200 feet and is the centerpiece of this national forest of more than a million acres. The volcano draws visitors from around the world throughout the year, but it isn't till the snow begins to fall that this majestic mountain landscape becomes a winter wonderland.
For accommodations, you'll find a slew of ski resorts perfect for the whole family, as well as secluded cabins in the forest and basic campgrounds. No matter what your accommodation tastes, you'll find it here – all within reach of the activities and scenery you came for, such as:
Skiing
Snow tubing
Snowshoeing
Hiking
Snowboarding
Even building snowmen
Leisurely drives just to sightsee are magical at winter's arrival – and something you'll remember for years to come. For instance, driving through the areas of Trillium and Burnt Lakes or the falls at Tamanawas or Ramona are must-see, with incredible views of the volcano in the distance. It's sights like these that illustrate why winter really is the most wonderful time of the year.
Start planning your next trip now that we have explained how to spend winter right in Oregon.