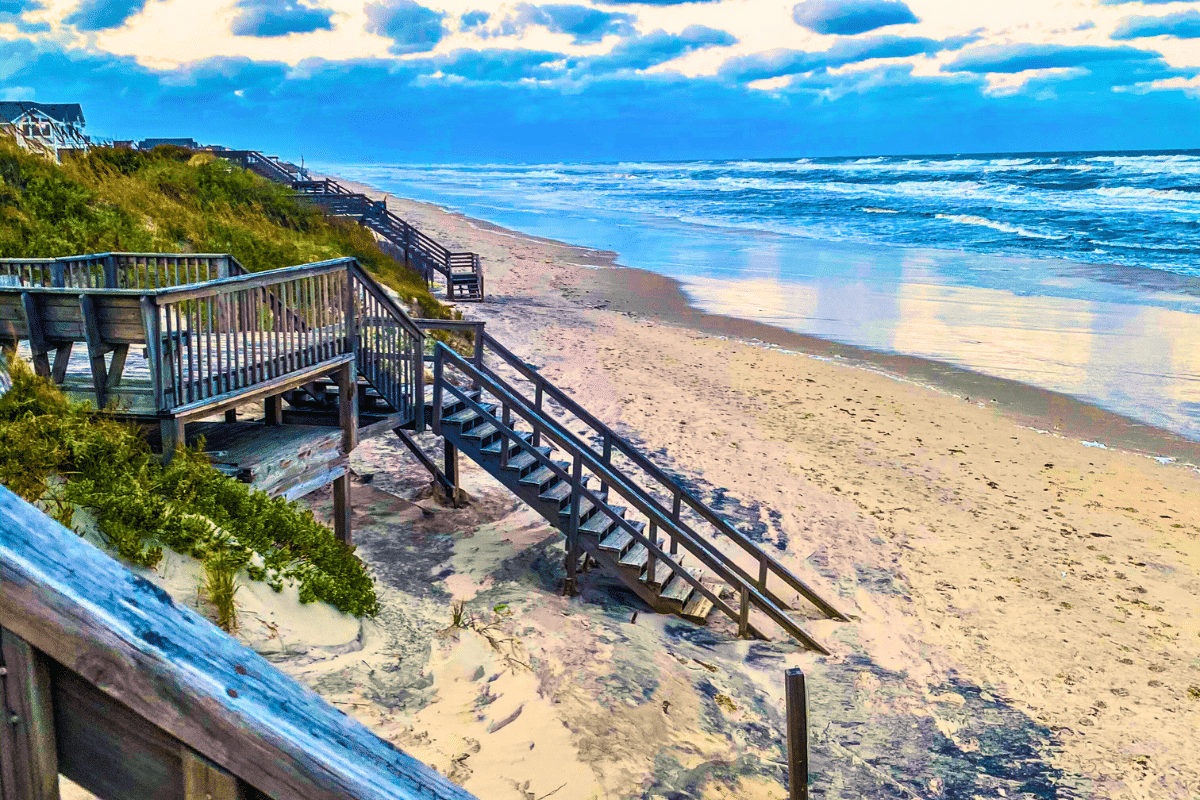 The Outer Banks of North Carolina are so much more than the stars of a Netflix hit. You, too, can experience the adventures of the Outer Banks.
This eclectic region is also more than the sum of its tales, such as those of the Lost Colony of Roanoke Island or Kill Devil Hills, where the Wright Brothers took to the skies for their inaugural flight. Fast forward to today, and you'll find a region adored for its charming hamlets, adrenaline-pumping water sports, top-notch golf courses, enigmatic wild horses, and Instagram-worthy lighthouses. Boasting expansive beaches and a wealth of activities, the Outer Banks is a perennial family favorite for a quintessential East Coast beach vacation. Let's take a southward journey through this captivating area.
Serenity with a Side of History, Please
Imagine this: 24 miles of tranquil shoreline serving as a family playground. Now, sprinkle in the sight of majestic wild horses galloping along the surf. What you have is Corolla in a nutshell: a locale that weaves nature and history seamlessly. These horses aren't just for show—they're living relics descended from Spanish mustangs, with roots tracing back to 16th-century shipwrecks. Want to dig deeper? Swing by the Corolla Wild Horse Museum.
Adrenaline junkies, take note: Corolla's 4×4 beach offers an off-road paradise. If it's breathtaking vistas you seek, hike up the 214 steps to the Currituck Beach Lighthouse's observation deck. And don't miss out on the Whalehead Club—an opulent 1920s Art Nouveau mansion complete with ghostly tours and activities for the kids.
A Resort Town Known for Its Rhythms, Ripples, and… Eccentric Name?
When a place is named Duck, you'd expect a quirky charm, and this resort town delivers. Originally frequented by waterfowl, hence the name, Duck serves up expansive sandy playgrounds filled with shell treasures for the kiddos. Vacation house renters have exclusive beach access.
Come October, the annual free Duck Jazz Festival has music aficionados tapping their toes. During the day, kayak your heart out, then savor delectable dining and retail therapy along the Duck Trail and the vintage boardwalk through Duck Town Park.
Diverse Leisure Awaits in Nags Head
Step into Nags Head and you'll find 11 miles of oceanfront bliss lined with historic cedar shake cottages you simply must capture on your camera. Art enthusiasts will find their groove along Gallery Row. The 150-foot-high Bodie Island Lighthouse with its striking black-and-white stripes is another must-capture moment.
Whether you're casting a line off a pier, mastering your swing at the Nags Head Golf Links, or immersing yourself in nature at the Nags Head Woods Preserve, there's no shortage of activities here.
But Wait—There's More to Explore
Don't leave without a stop at Jockey's Ridge State Park. Imagine scaling the tallest natural sand dunes in the eastern U.S., where the gusty winds elevate kite flying and hang gliding into an ethereal experience. Just a hop away lies Roanoke Island, home to the North Carolina Aquarium and the state's most extensive collection of sharks.
From the tranquil to the exhilarating, the Outer Banks offers a unique blend of experiences that captures the hearts of families year after year. Are you intrigues by the adventures of the Outer Banks? Now's the time to carve out your own slice of this East Coast paradise.